If you have a lot of free space in your garden, and you plan to change part of the garden into a pigpen, then you must read this article, because we just want to tell you how to DIY your own pigpen!
This guide will break down the steps to diy hog wire fence. We give you a list of the necessary tools, along with a shopping list for 50 feet of fence. This whole project can be completed in a day or two (depending on your skill level and extra help). You will, of course, want to customize this fence to suit your needs but this tutorial will give you a head start for getting your new fence in the ground.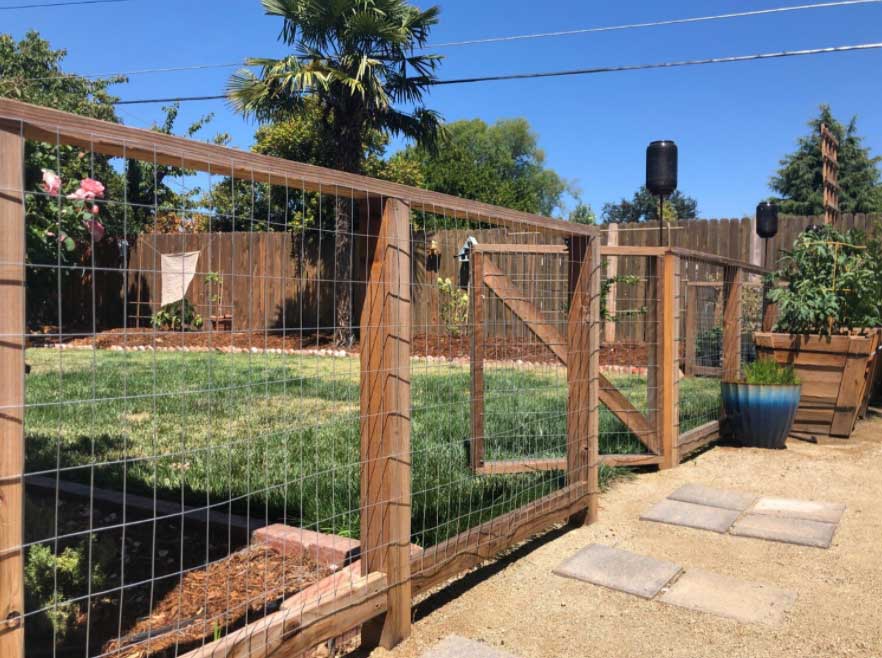 Prepare
Material List (for 50 feet of fence):
(6) 4"x4"x10' Lumber (1 per two fence posts)
(9) 2"x4"x12' Lumber
Exterior Decking screws
36" x 50' Galvanized wire fencing.
Gate Hardware (one per gate installed)
Marking Paint (or flags)
3 bags of Gravel
Tools Required:
Miter / Chop Saw
Screw gun
Drill
Staple gun & 9/16" staples
Post hole digger (Gas auger recommended)
48" Level
Wire Cutter (or Angled Dykes or Snips)
Kreg Jig (optional)
DIY Hog Wire Fence Steps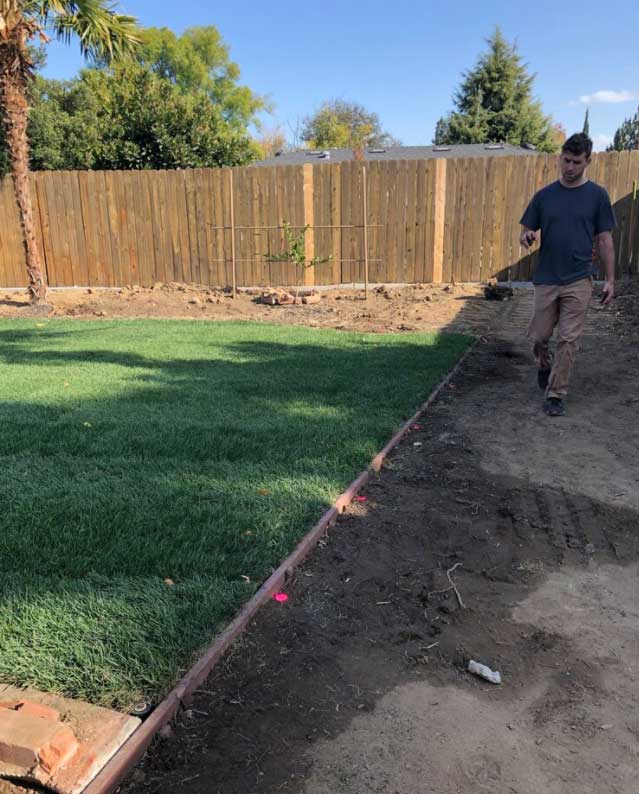 STEP 1 Measure And Mark
Measure and mark the locations of your post holes. We used marking paint for this but feel free to use stakes, flags, or simply dig a small hole. Four-foot spacing is ideal but does not have to be exact as you will be attaching the hog wire to the backside of the fence.
We found it easiest to start by marking your gate location and continue to mark your fence posts off of it.
We chose to do a 36" gate because it is a great size for moving a wheelbarrow or lawnmower in and out. If your gate is too big you may potentially have sagging issues later on.
STEP 2 – Get Digging
Now using a post hole digger you're going to want to dig those holes to about 14" to 18" deep [unless you live in the frozen North, then you will need to get below the frost line] and 8" wide. Depending on your soil, this is where spending the money to rent a gas-powered auger will save you a lot of time and sore muscles. Me, being the cheap-o, used a manual post hole digger to dig through our rock hard clay soil and greatly regretted that the next day at work. If you're going to use a manual post hole digger, I would also recommend a post hole shovel to widen the sides or break up the clay soil as needed.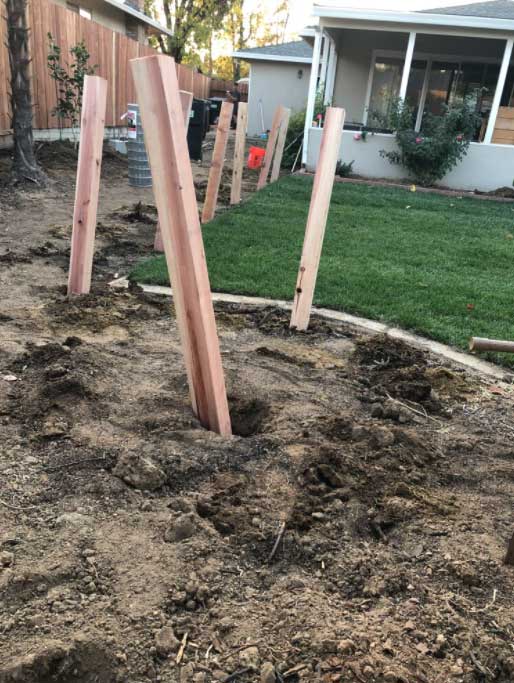 STEP 3 – Cut And Set Fence Posts
Once your holes are dug, cut the posts to 54". Again, in our climate we planned to bury 12" and have 42" showing, so adjust accordingly. Using a pencil, mark 42" on the post to mark how deep to bury the post. Place a few inches of gravel underneath the post and around the base (this will help with drainage and prolong the life of your fence). Making sure the post is plumb, start to fill and pack dirt around the post. It is very important to tightly pack the soil around the post to ensure the posts do not move later on. You can do this simply with your foot, the end of the level, or the back end of a shovel, whatever works to get that soil packed tight! Repeat the process and move down the fence line. Make sure to level each post off the one before it rather than the entire line of posts. Depending on the grade of the area you may need to dig the holes deeper (or cut the post shallower) to make the fence level, just be sure to have a minimum of 12" of wood buried in the soil for stability.
Q: Should I use concrete?
A: We chose not to because concrete can create a shelf for water to sit up against the fence post and speed up wood rot. Also, being a wire fence, it will not have a large wind load so we were not too concerned with the adding concrete in order to stabilize the structure.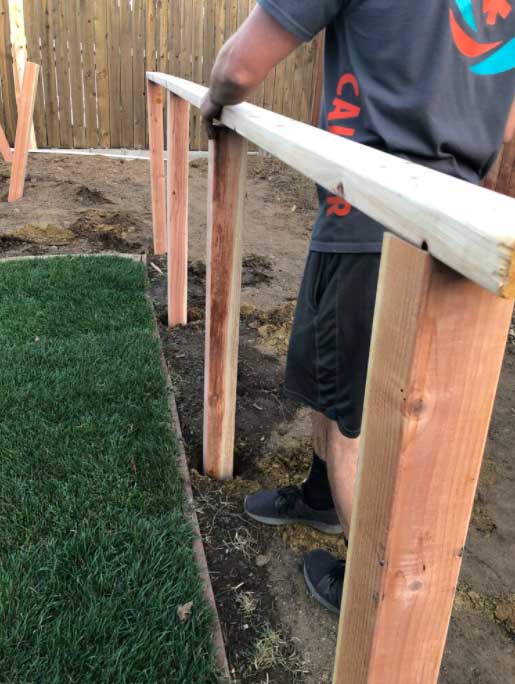 STEP 4 – Install The Top Bar
Now that we have the fence posts set, it's time to install the top bar. Measure and cut your 2"x4" to the necessary length. When tying two top bars together, screw in the end of one to halfway across of the 4"x4" post and start the next on the other half. Be sure to drill pilot holes before screwing in the deck screws to prevent the lumbar from splitting [especially on the ends where this is more likely to occur].
STEP 5 – Install The Bottom Support
First, measure and mark 36" from the top bar down the fence post. This is where you will tie in the top of the bottom support. Keeping the bottom 2"x4" support off the ground will help prevent standing water from being directly on the wood. Next, measure and cut the inside width between each post and drill angled pilot holes prior to placing in the support. [If you really want the screw to be recessed you can use a Kreg jig - we use this one]. If your working alone, consider starting one screw on each side of the 2"x4" as this will help when installing. Finally, finish by screwing in 2 deck screws on each side of the support down the line of fence posts.
STEP 6 – Roll Out And Staple In Wire Fencing
Now for the piece-de-resistance. The wire fencing should be rolled out the length of your fencing run and straightened out [Trying to hold and staple in rolled fencing without straightening it out will prove to be quite a chore]. We had our rolled fencing laid out flat overnight prior to installation. For each section, I measured the outside length and cut the wire to the specified length prior to installing. Ideally with help, hold the fencing halfway up the top bar and halfway down the bottom support. Start stapling down the line and pulling out the slack. Stapling directly behind a vertical wire will help keep the fencing taught as you move down the line. Finish by cutting and installing panels of wire.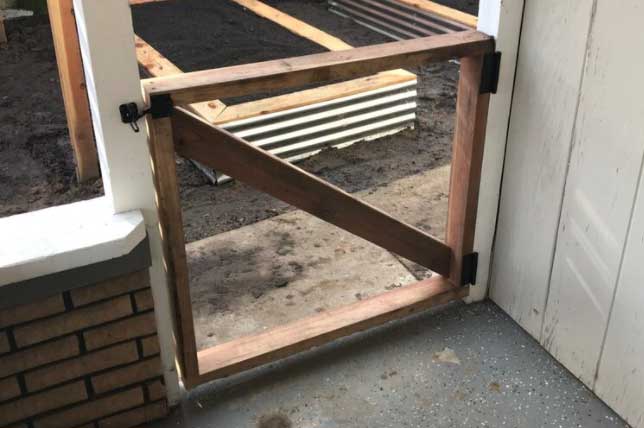 STEP 7 – Build The Gate
First, determine the direction of swing and don't forget to account for how tall your gate needs to be to clear whatever is underneath it. Take down your measurements for the vertical and horizontal lengths of your desired gate then cut and assemble the rectangle gate. Cut and assemble a diagonal support to strengthen the gate. Attach gate hinges to the frame, measure and cut wire fencing to gate size, attach with staple gun. Level and attach hinges to fence post.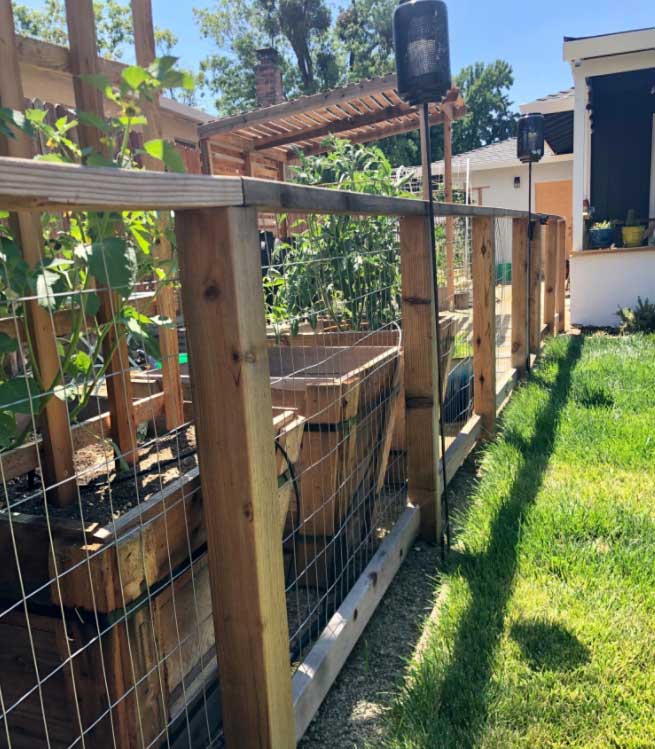 By doing so, your hog wire fence has been completed.