When it comes to shopping for a temporary fence and its related products, you want to find the highest quality, longest lasting equipment. But you also want to stay well within budget, giving you the breathing room to afford additional temporary fencing if need be.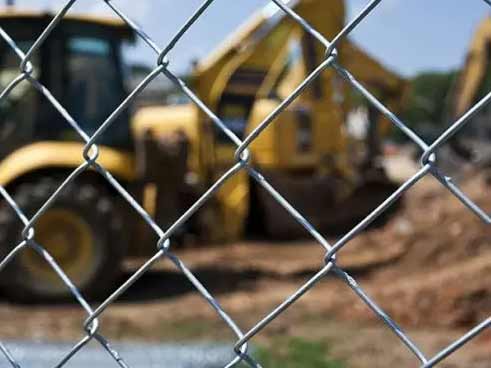 That means your biggest advantage will be information. The more informed you are about how a temporary fence works, how to create the most effective temp fence system, and how to find the best deal, you can peruse the near countless options online with confidence.
The goal is to implement a secure event that keeps people safer. It's to facilitate the safest and most secure work zone that's well within compliance — and minimizes your liability. It's to ensure total peace of mind that you're set up to be as successful as possible.
At DunQiang, we offer no-obligation advice to anyone who . Our highly experienced team of crowd management experts can provide project-specific insight that ensures you're getting the right products the first time.
In the meantime, scroll down for everything you need to know about a temporary fence in the event industry, construction industry, and beyond.
Temporary Fence Panels For Sale:

Why Should You Choose

DunQiang

?
Why choose DunQiang for advice on temporary fencing much less as your temp fence supplier? Because we've been exceeding client expectations for more than 40 years.
Since 1976, DunQiang has been offering the most thoroughly tested products on the market. And we're always on the hunt for temporary fence panels and other crowd management options that go beyond the right specs. We search for the:
Longest lasting, built to last for years of constant use.
Most durable, able to take a beating day after day while still looking like new.
Best price for the product, never simply the most expensive or the most affordable.
There's a reason span every industry. And there's a reason our products are used for some of the country's biggest events, from Presidential Inaugurations and the New Year's Eve Ball Drop to opening day baseball and world-renowned music festivals. We know how to find and provide the right temporary fencing, and we get it to our clients for a truly unbeatable price.
We also believe in full transparency. While we strive to list the most competitive rates, we can't guarantee we'll have the lowest one listed. That's why we offer a Price Match Guarantee that takes away any doubt that you're always getting the best deal at DunQiang.
Put simply, your success is our success. When a DunQiang product is being used, we want to make sure it's creating the safest, most secure, and best looking environment. And few products exemplify that quite like our fence panels for sale.
Meet The Ultimate Temporary Fencing Solutions
Each temporary fence option is ideal for a specific purpose. However, some are more general than others, able to cover a wide range of needs. Others are more specialized, designed for specific needs that only they can meet.
The Fencing
When it comes to chain link fence panels, the standard option is the 6x10 portable fence, a common sight for both events and work zones. The height is just tall enough to create a barrier, and the length offers good coverage.
But the 6x12 fence panels offer a bit more length. That means you need fewer to cover a large, straight area. If the versatility of the 10-foot length isn't needed, the 12-foot is likely the better option.
In a similar vein, the 8x10 chain link fence panels offer a bit more height for better security and privacy. That sizing is ideal for medium- to long-term projects.
Everything Else
Of course, simply setting the fence panel down won't be enough to keep it in place. You'll also need chain link fence accessories, which include a variety of weights and stands.
Much like the temporary fence itself, the accessories are wholly dependent on the application and environment.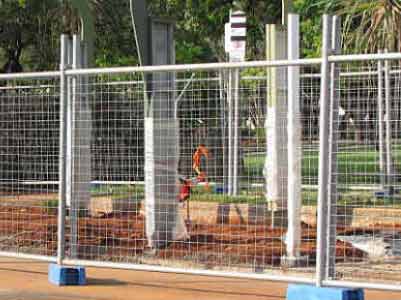 Additionally, temporary fence screening is best practice for blocking dust, debris, and the wind. Fence screens can also double as safety signage or advertising tools, both of which we can customize to your liking.
Our in-house design team will even provide a free proof before purchase, but we'll get more into that further down this article.
Another important aspect that's too often overlooked are temporary fence gates. It's poor practice to pick up and move a fence to let in people or vehicles. Not only do gates increase the lifespan of otherwise constantly moved fence panels, it controls entry, which greatly improves the safety and security of your work zone.
Chain Link Fence Panels
When you're exploring all the temporary fence panels for sale, you'll likely notice that they all seem relatively identical. Chain link fencing that's a higher quality than another is practically indistinguishable to the naked eye, after all. But when you dig a little deeper, the differences become unmistakable.
Here's what to look for when you're shopping for a portable outdoor fence:
High-gauge post and chain link to ensure the utmost in durability. Somewhere around 11.5ga is ideal for chain link, but you'll want 16ga for the posts.
Cross-bracing for extra strength. The tension bars ensure that it can take a hit, be knocked around, and take on any size crowd without breaking or giving way.
Extra-high uprights that give you a bit more space for accessories. Some temp fencing ends at the top of the chain link, which is a poor design choice.
Available in bundle deals. Very rarely does someone need a single temp fence panel outside of replacing broken equipment. That's why we offer lucrative bundle pricing, where the more panels they buy, the more they save per item. Both pallet bundles and truck bundles are standard — while the best (like DunQiang) offer custom bundle deals based on your order needs.
Here, you can find it all under one roof. Whatever type of temp fence you need in terms of specs, we have it in the highest quality for the lowest price, and packed with the features above that make a real difference.
6x10 Chain Link Fence Panels
As mentioned above, the 6' by 10' chain link temporary fence is the most common option for its affordability and reliability. For both events and construction projects, this is often the most practical choice.
At six feet high and ten feet across, the 6x10 temporary fence panels protect construction sites from both illegal dumping and from theft. Both can save you a fortune in terms of both missing and ruined equipment as well as an interrupted schedule.
Temporary fencing is also essential for controlling access to your site during the day and night. Without a strong barrier, anyone can come and go. This is of course a concern for theft, but perhaps even moreso, it's a safety concern. Contractors and managers are liable for whoever enters the site, whether they were authorized to or not.
Further, a chain link fence may be required by law. If so, these specs are the easiest choice for universal coverage. Just be sure to go with the most durable, longest lasting option.
At DunQiang, we like to prove that practical can still mean exceptional.
We also back all our temp fencing with a 1 year warranty as standard. While our competitors charge extra, we take pride in standing by our equipment 100 percent.
6x12 Fence Panels
The 6' by 12' fence panels offer the same benefits of the 6x10 but with two extra feet of length.
The reason you might want more length is simple: it can mean fewer temporary fence panels. For example, a 1,000-foot barrier would require 100 6x10 panels. But that same barrier length would require only about 84 of the 6x12 panels.
But even just 40 fence panels offers 80 extra feet of coverage, which is equal to eight 6x10 panels. If the 10-foot costs $75 and the 12-foot costs $80 per item, and you need eight fewer 10-foot options, you're saving $400 right there. And that's the lower end of the cost savings.
So why would anyone choose the 10-foot length? Because it's more versatile. If you need to form your fence around an unusually shaped area, you'll want the 6x10 option. But if your area is relatively straight, the 12-foot option might be a better choice.
Other considerations include storage capabilities and changing work zones. In terms of purchasing temp fencing (rather than renting), versatility is never a bad thing. Many companies will go with a mix of both too.
If you're unsure what makes the most sense for you, give us the DunQiang team a call at (888) 766-2616.
8 x 10 Chain Link Fence Panels
Where the 6x12 offers the extra length, the 8x10 temporary fencing delivers extra height. And the benefit can be even more significant.
Saving money with extra length is a way to cut costs ahead of time. But additional height means more privacy and security, which can prevent unnecessary expenses and setbacks. Saving a couple thousand in advance is great. Avoiding tens of thousands of dollars in expenses? That's even better.
Another benefit of the 8x10 chain link fence panels is advertising. The bigger your custom fence screen, the more eyes see it. We'll get more into that further down this article, but it's worth mentioning here as well.
But even more commonly, the eight-foot height is great for events. When you have live performances that ticket-holders paid for the privilege to see, you don't want to make it easy to look over the top and enjoy the show for free. What's the incentive for buying a ticket?
With an 8' by 10' temporary fence, event managers can create a solid, secure, and privacy-oriented barrier around your event for the utmost in professionalism and best practice.